Blueprint Genetics will be attending the 2023 Clinical Immunology Society Annual Meeting: Immune Deficiency & Dysregulation North American Conference on May 18-21 in St. Louis, Missouri.
The 2023 Annual Meeting will provide a venue for the presentation of the newest immune deficiency diseases and the pathogenesis of these defects in molecular terms. The meeting will focus on cutting edge clinical and basic science research, as well as practical applications of these in patient care.
Be sure to check out our posters:
Poster #66: Genetic Findings from a Multigene Panel for Autoinflammatory Disease
Presented by:

Torry Howell

, MS, CGC on Friday, May 19th between 1:30PM-2:30 PM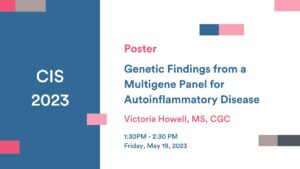 We are proud to offer comprehensive and high-quality genetic testing for a wide variety of inborn errors of immunity. Our Comprehensive Immune and Cytopenia Panel (642 genes) is designed to detect clinically relevant, noncoding variants, and includes more than 90% of the genes listed in the latest International Union Immunological Societies paper (PMID: 31953710).   
Read more about the program at CIS 2023 and join the discussion #CIS2023.
Interested in learning more about genetic testing?
Watch our recent webinars to learn more about a wide variety of topics related to genetic testing or read more about our testing options:
Our team is looking forward to meeting you!
Come meet our team at CIS 2023 at booth #405 to hear more about our comprehensive genetic diagnostics for a broad range of inherited and congenital immunological defects. Kara Vitalone, MS, CGC will be available to discuss Blueprint Genetics' latest updates. We look forward to seeing you in St. Louis, MO!