Financial Assistance Program: Increasing Accessibility to High-Quality Genetic Testing in the United States
We believe that cost should not be a barrier to genetic testing
As a lab founded by clinicians, accessibility is a cornerstone of Blueprint Genetics. Our goal is to provide the highest quality genetic testing to patients and families, but we understand the financial challenges individuals can face when trying to access this testing.
Our entire test menu is covered by our Financial Assistance Program! This includes all single gene, panels, whole exome sequencing, familial variant, and targeted variant tests. With this program we hope to ease the financial burden to many patients and families.
How does the program work?
At Blueprint Genetics, customer service is in our DNA.
Our billing specialists will work with patients and families to review the eligibility criteria related to the Financial Assistance Program and answer any questions. The program is based on income levels and household size, with financial assistance for families earning up to 600% of Federal Poverty Level.
Blueprint Genetics will perform a benefit investigation once an order is placed in Nucleus or sample is received with insurance (copy both sides of the patient's insurance card) and patient demographic information. Patients with any commercial insurance are eligible for this program, as are those covered by Medicaid, Medicare and Tricare. Patients without insurance are also eligible.
One of our billing specialists will contact the patient (normally within 72 hours after an order is placed) and inform them of their out-of-pocket cost, taking into account any unmet deductible, co-pay, and co-insurance, as well as explain their payment options under our Financial Assistance Program.
Blueprint Genetics' billing specialists will process insurance prior authorizations (PA) on behalf of the patient whenever allowed by the insurance company, and will assist clinicians with submitting letters of medical necessity (LOMN) and supporting clinical documents.
If the patient is not completely satisfied with our billing solution and options under the Financial Assistance Program, there is no obligation to move forward with testing. If the patient decides to cancel the test, we will contact the ordering healthcare provider before cancellation.
We offer flexible payment plan options for patients and families who experience economic challenges
Qualifying for the Financial Assistance Program
Our Financial Assistance Program is based on income level and household size; we have a tiered pricing method for those who have incomes <200%, <400%, and <600% of the federally established income guidelines (shown in the table below).
The program provides tailored financial solutions based on federally published income guidelines to any insured or uninsured patient who qualifies financially.
Payment plan options are also available to those who exceed the 600% Federal Poverty Level. Our billing specialists are available at billing.us@blueprintgenetics.com or 1.650.452.9340 ext.1 for questions and support.
Example: If an individual's total family size is 4 and the total household income is $100,000, then the individual would qualify for the discount amount for families making up to 400% (4 times) the Federal Poverty Guideline.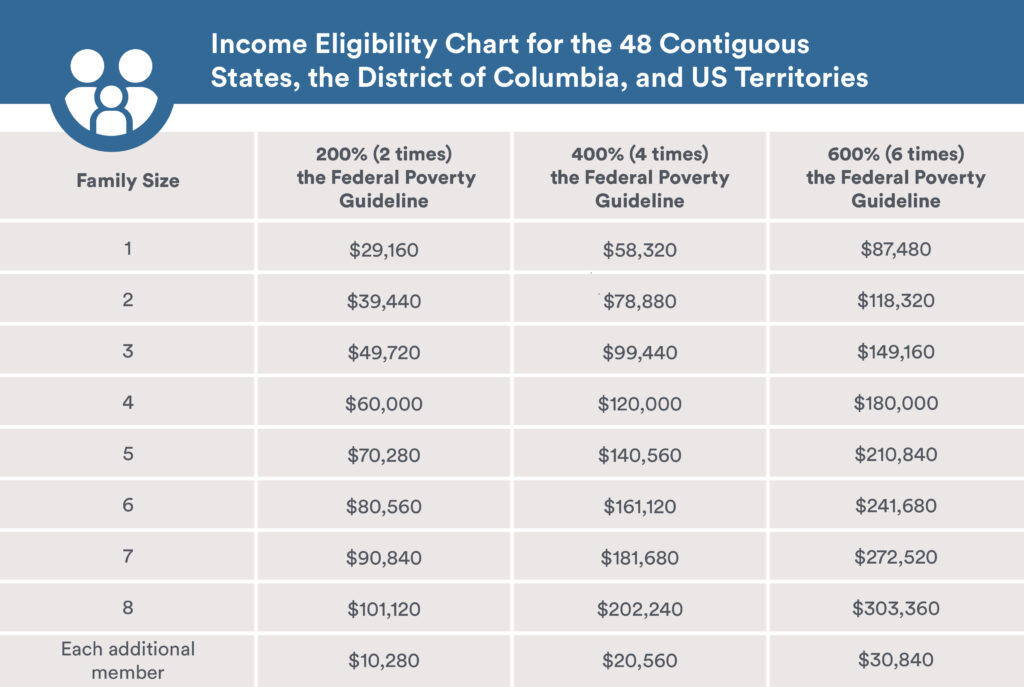 Please view the income eligibility chart for Alaska here and Hawaii here.
The 2023 poverty guidelines are in effect as of January 2023. These figures will be updated annually: https://aspe.hhs.gov/poverty-guidelines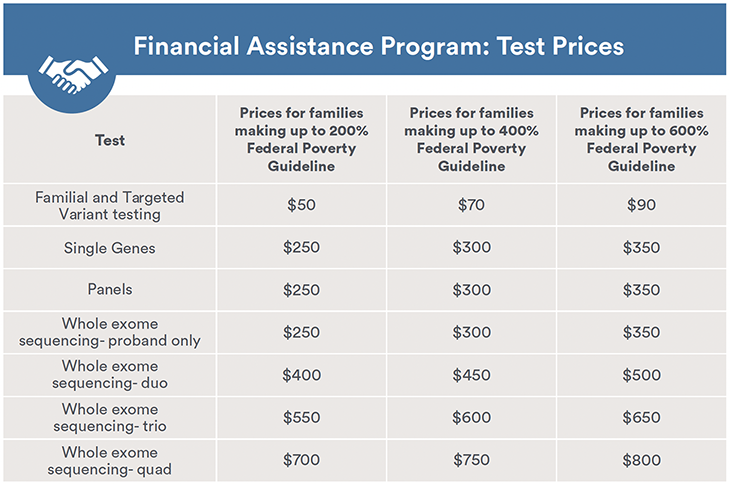 How will I know if my patient is eligible for the updated Financial Assistance Program?
This program is available for families earning up to 600% of Federal Poverty Level (FPL). The level of assistance varies based on family size and the family's current annual income level. Please review the Income Eligibility Chart to review the income parameters.
What does my patient need to do in order to participate?
There is no action required from the patient to participate. Our billing specialists will contact patients with their out of pocket cost following a benefits investigation. During the call, they will also collect the annual household income and size to apply the Financial Assistance Program. They can also discuss payment plan options for those that exceed the 600% Federal Poverty Level.
What paperwork is needed to participate in the Financial Assistance Program?
No additional paperwork is needed from the ordering healthcare provider to participate in the financial assistance program.
How do you estimate the family annual income?
This information can be found on an individual's W-2 form. Blueprint Genetics takes patient privacy very seriously and will never share any sensitive information that is shared with us.
What are the income levels based on?
The income levels are based on federal poverty guidelines. These guidelines are updated annually by the Department of Health and Human Services (HHS). Please see above for the latest Income Eligibility Chart.
Who does not qualify for the program?
Individuals who:
Earn more than 600% of the U.S. Department of Health and Human Services (HHS) federally established income guidelines.
What if the patient does not qualify for the program
If your patient does not qualify, we can offer flexible payment plan options. Please do not hesitate to contact our team to discuss these options at (650) 383.3099 Ext. 1 or billing.us@blueprintgenetics.com
Last modified:
April 01, 2023