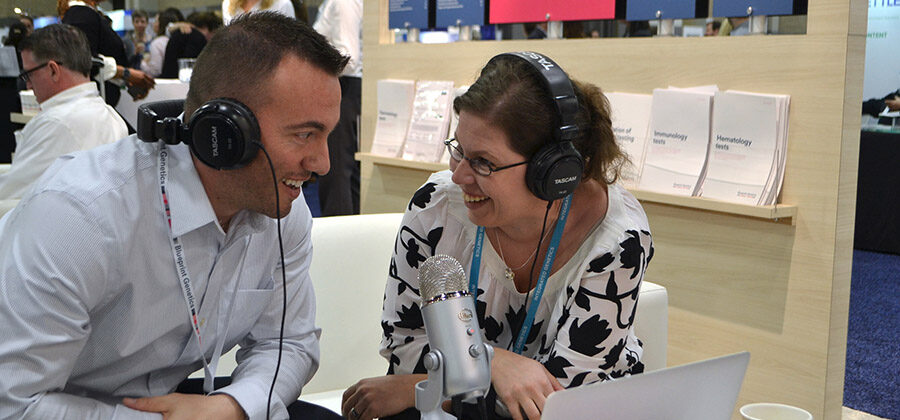 What are the most inspiring takeaways from the scientific sessions? How does NGS genetic testing provide clinicians a better tool to diagnose patients? In this podcast, Genetic Services Consultant Adam Beres and Clinical Interpretation Team Leader Eveliina Salminen discuss the highlights of the 2018 Annual Clinical Genetics Meeting (2018) organized in Charlotte, NC, USA.
Eveliina addresses the most interesting topics from the scientific sessions, e.g. how NGS genetic testing has provided clinicians with a powerful tool to better diagnose patients. In addition, we hear greetings from the lively exhibition floor and what are the latest developments at Blueprint Genetics, including the recent panel update and technological improvements.
Speakers
Eveliina Salminen
Eveliina Salminen led the clinical interpretation team at Blueprint Genetics until 2019. She obtained her PhD on genetics of multiple epiphyseal dysplasia and osteoarthritis in 2005, followed by postdoctoral studies concentrated in genetics of multiple sclerosis, population genetics, and Mendelian disease-gene mapping at the Broad Institute, MA, USA and National Public Health Institute, Helsinki, Finland. Eveliina has also worked as a geneticist in the Finnish Genome Center in Helsinki with genome-wide and custom SNP chip projects doing project planning, management, genotyping, and data analysis. She has Specialist training in clinical genetics: both clinical (Dept of Clinical Genetics and Prenatal diagnostic unit, Helsinki University Central Hospital) and laboratory experience (HUSLAB, Laboratory of genetics).
Last modified:
December 10, 2018